If you are looking for an easy photo editor that is inexpensive and useful, you've come to the right place since we are talking about brand-new FotoJet HTML5 photo editor.
As a popular editing tool, FotoJet HTML5 free photo editor allows you to easily edit your own photos online, which is really convenient. For those who don't need edit photos frequently, FotoJet's online photo editor can be the best choice. Either personally or professionally, its neat options for photo editing are really useful.

Massive Photo Edits Options
FotoJet's online photo editor unleashes your creativity by simplifying the steps. Although a large number of image editors offer filters these days – from King Photoshop to Open Source Gimp to uncountable iPhone apps to piles of free and paid Android apps, FotoJet HTML5 editor is among the few tools truly optimizing photo filters to the fullest. It supports previewing immediately after a modification. I especially favor its filters in classic, vintage, old-fashioned, browned with age. The options here are fantastic and I had a good time playing around with different filters.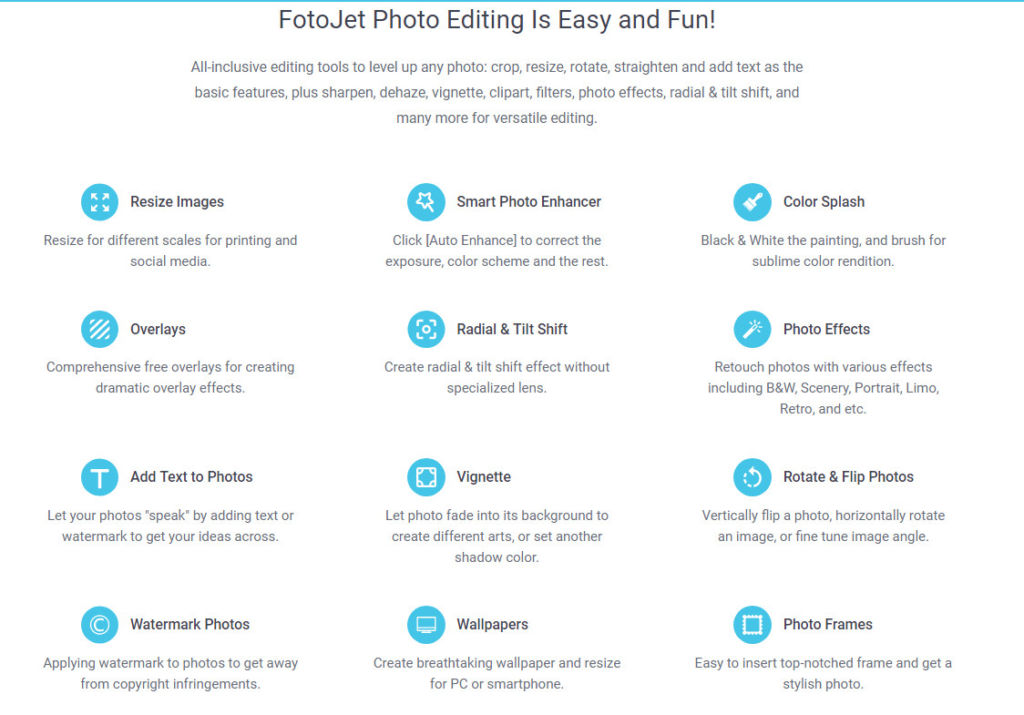 80+Text Edits, Fonts Types
There are plenty of selections in text and fonts. Over 80+ fonts are selective. Albeit free version offers a portion of fonts online, it is enough to cover your needs. You are free to update your account to a premium one and enjoy a wider range of stunning fonts. Click a font to apply to the text. It is able to change font color to create your own style. Selecting a text, you can easily resize it. Drag and drop to move text to a position you want it to be. A joy to use.

Default Output Image Sizes
 FotoJet photo editor defaults the size of output images, which is very handy and considerate. Of course, users are allowed to set the size themselves.

All-Inclusive Edits
In FotoJet HTML5 photo editor, you can easily find the access to add text, add effect, insert frames, overlay photos, or create fashion-styled color splash. Almost half of its features are basic free. To crop, resize, rotate or color images are all supported.

Final Words.
FotoJet's HTML5 photo editor is an easy-of-use browser-based web app for all users. It's a good choice when you need to edit a photo in urgent.
Click Here to Visit FotoJet's HTML5 Photo Editor Page