Kitchens have to be trendy for many people today. The kitchen has really become the eye-catcher of the house. And you must, of course, be able to shoot Instagram worthy images. The hashtag #kitchendesign does not have more than 2.2 million messages for no reason.
The kitchen becomes like a piece of furniture and styling is of course not entirely unimportant. Fortunately, there are many possibilities to set up a new kitchen. Sleek, playful, stylish, dark or light. What do you choose? To make things easier for you, here are the twelve kitchen trends of 2019.
Trend 1: Natural and warm
Kitchens with green tones, a natural feel and a warm atmosphere are very popular. In combination with wood and graphic elements, a national kitchen is created that gives you a nostalgic feeling. This natural effect is even more apparent with plants in the kitchen. A green wall or green accessories for the kitchen give an extra feeling of being outside. Wood also contributes to this, in the form of shelves, a worktop or furniture in the kitchen. This makes the kitchen a place to relax.
Trend 2: Robust and tough
Another kitchen trend is a somewhat cooler kitchen. With oxidized iron and dark shades, you go in a robust environment. Herringbone patterns complete this kitchen style. You also see a lot of metal in the kitchen, such as a rough lamp or metal handles. Even a metal fruit bowl fits this trend. The colors are often shades of gray. It is not for nothing that "gray is the new white" in the world of kitchens in 2019.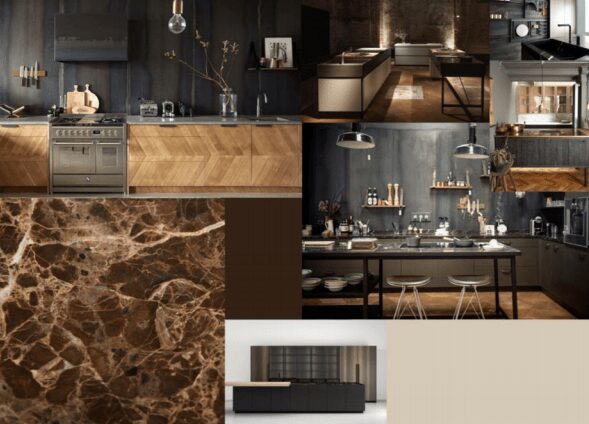 Trend 3: Hip and trendy
If you prefer something more subtle and modern, this kitchen trend is suitable. Metal cabinets, wallpaper with graphic print and warm green provide a young kitchen. This is for example a smart option when the kitchen overflows into the living room. The kitchen itself is also increasingly visible. The kitchen then becomes a piece of furniture in the living room, especially when combined with the dining area. A black faucet and black top and wire glass give the kitchen a neutral yet modern look. For an even more open and spacious view, you can choose floating kitchen cabinets.
The characteristic of a trendy kitchen is not much fuss. Tight, simple, light and modern. You often see high doors, warm materials and thin sheets in these kitchens.
Trend 4: Personal and to taste
The latest kitchen trend is already immensely popular in the many countries. Quiet, simple, but stylish and modern. Cupboards and drawers without handles and a niche with shelves make this type of kitchen very popular. On the shelves you can put whatever you want. You can put your herbal collection on it, but also kitchen utensils. Wallpaper can be stuck in the niche or on other walls in the kitchen. The wallpaper can be adjusted as desired. Busy or quiet, colorful or neutral, you choose that yourself.