Renders of various ASUS Radeon RX 6700 XT video cards have appeared. The manufacturer is said to be working on three custom video cards and a reference model. The RX 6700 XT is expected to be announced on March 3 and will be released on March 18.
VideoCardz publishes images and details of two custom RX 6700 XT models in the Dual and TUF Gaming series. The Dual model gets a GPU without factory overclock, according to the website. According to previous rumors, AMD will come with two different RX 6700 XT GPUs, of which the models without factory overclock will have the power of a total graphic of 189W.
The clock speeds of the ASUS Radeon RX 6700 XT Dual 12GB are unknown, but according to VideoCardz, the video card has a cooler that takes up 2.7 slots and has two fans. ASUS previously released video cards in the Dual series, which look the same. The GPU will have an 8-pin connector and a 6-pin connection for the power supply, which would be standard for the RX 6700 XT.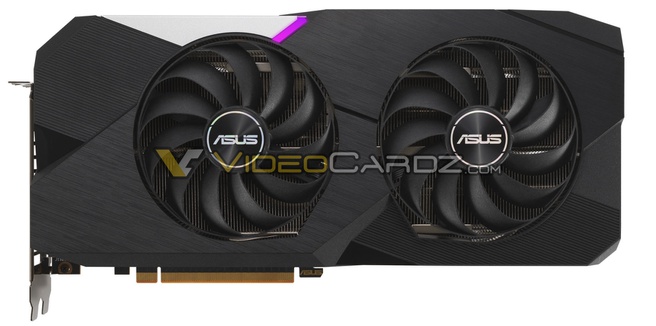 ASUS also comes with a TUF Gaming OC variant of the RX 6700 XT, according to VideoCardz. This variant would receive a factory overclock, although the concrete clock speeds are still unknown. VideoCardz reports that the RX 6700 XT TUF Gaming will get two 8-pin power connections, just like the current RX 6900 XT and RX 6800 video cards.
The design is almost identical to the RX 6800 XT TUF Gaming video card from ASUS. The pcb of the RX 6700 XT TUF Gaming would be slightly narrower, according to the website. The layout of the heat pipes would also be different. The cooler takes up nearly three slots and the card is said to be 32.2 inches long.
There are already more rumors about the RX Radeon 6700 XT. This video card would get a Navi 22 GPU with 40 compute units and 2560 streaming processors. AMD would also provide the video card with 12GB of GDDR6 memory. A render published by AMD shows that the video card will probably have three DisplayPort connections and an HDMI connector.
AMD will probably announce the RX 6700 XT next Wednesday. The company will then hold a Where Gaming Begins presentation and the GPU manufacturer has already confirmed that it will show a new desktop GPU. It was previously expected that AMD would also announce an RX 6700, but this introduction has been postponed , according to French tech site Cowcotland . The Radeon RX 6700 XT would be released on March 18th .
AMD Radeon RX 6000 line-up

Video card

RX 6900 XT

RX 6800 XT

RX 6800

RX 6700 XT * (rumored)

GPU

Navi 21 XTX

Navi 21 XT

Navi 21 XL

Navi 22 XT

Compute units

80

72

60

40

Boost clock

2250MHz

2250MHz

2105MHz

nnb

Memory

16GB, GDDR6

16GB, GDDR6

16GB, GDDR6

12GB, GDDR6

Memory bus

256-bit

256-bit

256-bit

192-bit

Memory speed

16Gbit / s

16Gbit / s

16Gbit / s

16Gbit / s

Memory bandwidth

512GB / s

512GB / s

512GB / s

384GB / s

Total graphics power

300W

300W

250W

189-230W

Release

December 9, 2020

November 18, 2020

November 18, 2020

March 18, 2021 (?)