There are many cases to prove that it is necessary to convert video to MP3. Do you find that the background music in the movie is in line with your preferences and want to extract it and save as MP3 on your computer for listening at any time? Or have you ever wanted to use the dialogue in the video to help children practice listening and speaking without playing the video? There is also a common situation. We believe that when you take your children on a long trip, playing their favorite cartoon movies in the car will not only make them happy, but also help them relieve fatigue. It will be easy to extract audio from video and save it as MP3 if you find the right tool, in this article, we will cover how to use different approaches and programs to extract audio files from video. Let's go!
How to convert videos to MP3 in 2 ways?
To help you easily convert video to MP3, we'll show you how to use online tools and offline programs. Here are the detailed steps.
Convert any video to MP3 with the desktop program.
There are many options for converting video to MP3, and desktop programs are essential due to their stability and diversity. When choosing a suitable desktop program, we should take functionality, ease of use, efficiency and output quality into consideration. Most of their usage methods are the same. In this article, we will take WonderFox HD Video Converter Factory Pro as an example to introduce how to use desktop programs to convert videos to MP3. It is a professional and fast audio and video conversion software that allows you to convert files to different formats, such as MP4, AVI, MKV, MOV, VOB, MP3, WMV, OGG, DTS, AC3, AAC, etc.
Not only that, it also has the following features:
Provide comprehensive conversion of audio and video files, such as AVI to MKV, WAV to AC3, AAC to MP3, etc.
Built-in video editor to help you trim, rotate, merge, add effects, cut, watermark, etc.
Support almost all types of devices, cameras, phones, tablets, TVs, handsets, laptops, etc.
Add subtitles to videos.
Record the screen with sound.
Convert videos and pictures into GIF.
Convert SD video to HD video.
Batch conversion of audio and video files.
Download videos from YouTube, Vimeo, Hulu, Facebook, Twitter, Liveleak, etc.
Now, download the software to install on your computer and follow the steps below to convert your video to MP3.
Step 1: Launch the software and add video files to the program.
After opening the software, click "Converter" on the main interface and click "Add Files" to load your video into the program. To save your time, you can also drag files to the converter.
Step 2: Select the target output format.
Come to the format list from the "Output Format" panel on the right, where you will find more than 500 output formats, just select "MP3" as the output format under the "Audio" tab.
Step 3: Click the "Run" button to start converting the video to MP3.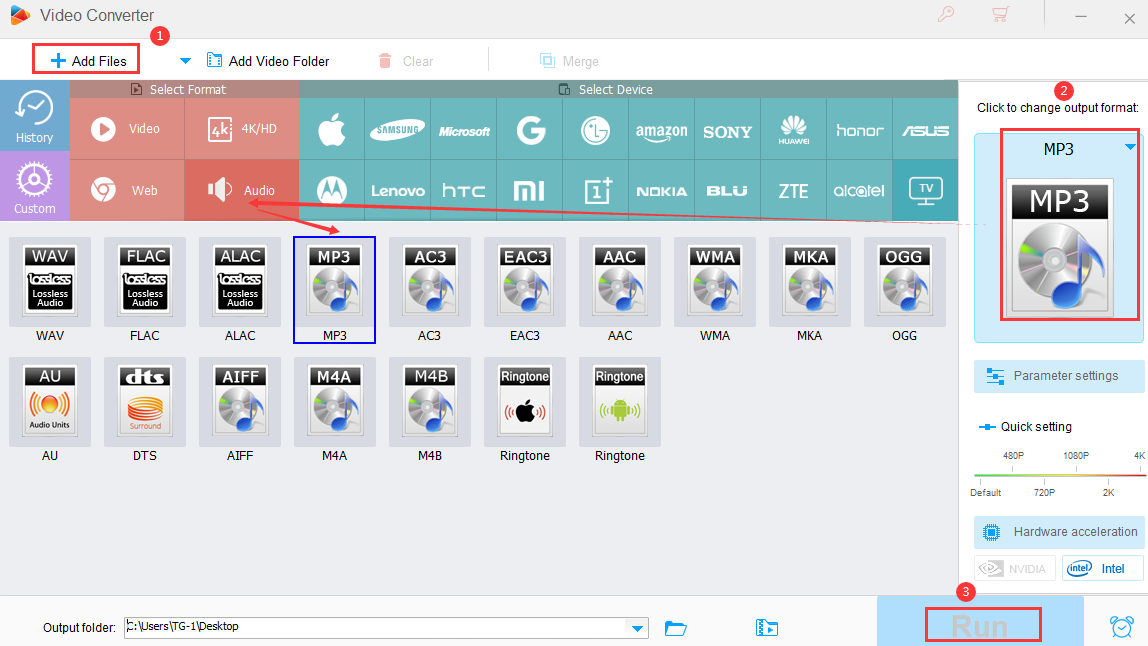 Convert video to MP3 with an online tool
Actually, there is an easy way to convert video to MP3 without downloading any software on your computer. You can search through Google to find a satisfactory online tool and import your files to convert to MP3. As long as you type in keywords, a large number of results will be filtered out for your reference. Take Video Converter as an example to enter the steps of using online tools. It is an extremely simple online converter to guide you to convert audio and video files to different formats, and it supports different input sources, including video folders, Google Drive and Dropbox.
Step 1: Import your video files from local folder, Dropbox or Google Drive.
Step 2: Find the desired output format (MP3) through the drop-down bar.
Step 3: Click the "Convert" button to convert your video to MP3.

Final words
In this article, we introduced two methods to convert videos to MP3, one is to use the paid program, and the other is to use the free online tool. They all have their own shortcomings and advantages. For example, WonderFox HD Video Converter Factory Pro have more features in converting videos, downloading videos, and editing videos, and it can help you improve video quality, but it can only be used on Windows. Video Converter is a completely free converter, it has no installation requirements and is easy to use, but it only supports more than 40 output formats. Choose what you like based on your preferences and actual needs!