Privacy-oriented search engine DuckDuckGo announced yesterday that the map and address-related searches and functions of the search engine are now supported by the MapKit JS framework from Apple.
The new functionality is already live for desktop and mobile devices that use DuckDuckgo for searches.
DuckDuckGo marks two important benefits that come from the move: better privacy and better card functionality.
Users can see maps and related data when they perform searches for places or addresses. A search for the best Thai, Vietnamese or Italian restaurant shows a map and related information in the sidebar or at the top of the search results page.
Searches for addresses, geographic locations, local companies, a type of company or places near them back embedded maps.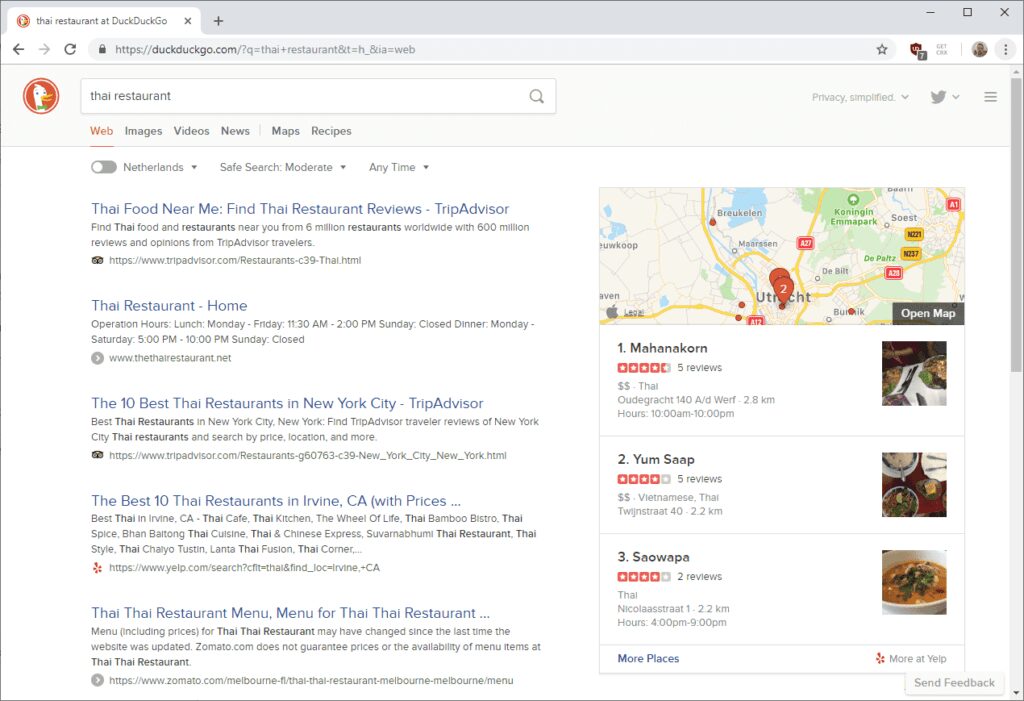 The list marks places on a map and a top list of places depending on the question. If you're looking for a restaurant, you'll get three Yelp restaurant listings along with user reviews, types and other information such as opening hours if available.
A click on the map expands to cover the whole screen. A sidebar lists places and you can click on numbers to immediately mark a specific place.
The card supports core card functionality such as zooming, moving, or switching to another display mode.
DuckDuckGo is a privacy-oriented search engine and privacy played a big role in the decision to switch map functionality to the MapKit JS framework of Apple.
The company notes in the announcement that user IP addresses or other personally identifiable information is not shared with Apple or any other involved third party.
The approximate location of a user is used to control local searches, but the information is discarded "immediately after use" according to the company. Users remain anonymous according to DuckDuckGo because the company does not store personal information in the server logs.
Additional information on anonymous localized results is available on the DuckDuckGo Help site.
DuckDuckGo has not revealed how privacy has improved with respect to privacy with the company's previous card provider OpenStreetMap.