The Apple Watch is the most selling watch in the world. Now, with the Apple Watch Series 5, Apple has made its smart clock even better. How big is the leap ahead? And is this the watch you need? You can read it in this Apple Watch Series 5 review.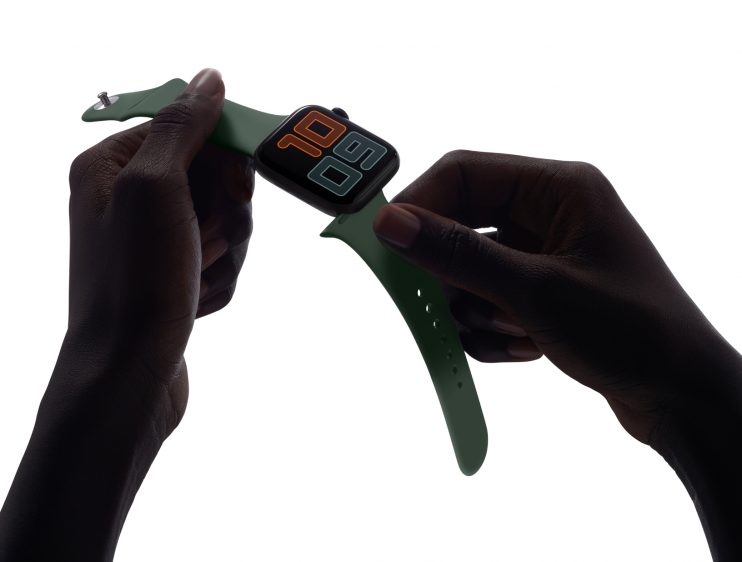 Apple Watch Series 5 review
The Apple Watch has become an increasingly smart device over time. Answer a phone call? You don't have to take your iPhone out of your pocket. Does your heart run wild? Your Watch reports that it is time for a visit to the doctor or the cardiologist. The breathing app makes sure that you go through life in a somewhat mindful way. With the new watchOS 6, your watch turns into a smart decibel meter and you prevent hearing damage. And so we can mention a hundred useful and nice things. But one important point was missing.
No Apple Watch has always been able to display the time. This required a graceful swipe of your wrist (or a tap on the screen or a swivel on the crown); only then was the screen activated. And now there is the Apple Watch Series 5, which has been in stores since September. It actually only has one relevant innovation: the coveted always-on display.
Always up to date
So a single renewal. And how exciting is that? It is difficult to claim that lifting your wrist leads to tennis elbows, strained shoulders or other physical discomfort. To see how often I use this new function, I started to keep up. That appears to be much more often than expected. A few examples? During a meeting where words like "customer journey" and "dot on the horizon" pass en masse, I take a stealthy look at my watch – to conclude that we have indeed been sitting here for far too long. In the cinema, I check what time it is without seeing the entire room. And countless times while typing: I tap full screen on my Mac, without a clock on the screen, and the chatter on my keyboard is often interrupted because I look at my Watch.
The always-on screen does not only work on the dial; the Work-out app also always stays on. I like to spin, it is important to keep a close eye on your heart rate. That previously caused quite an exaggerated "Look at me having a much too expensive heart rate monitor" wrist movements per hour. So I always only looked at the state of affairs after the completion of each song in class. Now I can monitor my heart rate and other data in real-time and in a more discreet way.
If you have an app other than Work-out open, it will become blurred after a while and the time will appear in the top right corner of the screen. Blurred yes, you read that right. Because the screen is always on, but not at full power. Colors fade, complications fade into the background, the screen gives less light. Only the most essential information – the time, therefore – is always clearly visible. With the Mickey dial, this means that you can only see the hands that serve as hands. With Numbers, the numbers become transparent and you only see the contours. With each dial it turns out differently, one time a bit more successful than the other. Always turning on the screen in full regression would cause the battery to run out in no time. But with these adjustments, your watch will get through the day just fine: on an average day, more than fifty percent will remain in the evening. Two days without charging becomes tight, but in practice I still place my Watch next to the iPhone on a charger every night.
Another innovation
The entire internet has been shouting since the introduction of the Watch that such an always-on screen should come. First question on Twitter, immediately after the announcement of the Apple Watch 5? You never guessed it: "How annoying. Can the screen also just be turned off? "That is indeed possible, whatever you want. But then you actually have an Apple Watch Series 4 with just a little more memory … and a compass. Because that is the only other improvement on this Series 5. They once taught me to navigate scouting based on the position of the sun, the color of tree leaves and a compass, but I think I will never understand it. Initially, I tapped listlessly through the Compass app. Until I noticed that the compass ensures that Maps on the Apple Watch shows which way you are looking. Still handy – unless you have a metal watch strap, because then Compass also loses its way.
Buying Apple Watch Series 5 or not?
The always-on display is what makes the Apple Watch 5 exciting, we conclude in this Apple Watch Series 5 review. Always being able to see the time does not seem particularly necessary until you turn this feature off or return to an older Apple Watch. Only then do you really notice how often you use this. In our opinion, it should have been on the Watch much earlier.
Unfortunately, this is also the only really innovative, unless you are completely crazy about the compass – which has been on the iPhone for years. Switch from 4 to 5? That is not really worth it. The rest of the functions are identical, just like the design. Switching from a previous generation may be interesting. If you still don't have an Apple Watch, then your biggest objection was probably that you couldn't always check the time. Then this is the time to strike.