A completely new Apple Watch has been available at Apple since this fall: the Apple Watch Series 4. A major update compared to all previous models! And we mean that literally. We've tested the new Apple Watch extensively – here's what you need to know.
Apple Watch Series 4 44mm
As always, Apple has a large and a small Apple Watch in its range. Previously you could choose from a 38 and 42 mm case, the successors are 40 and 44 mm in size. If you put the Watch on, you won't notice it immediately. The case is thinner than that of the Apple Watch Series 3 : 10.7 mm thick instead of 11.4 mm – which is still thicker than the original Apple Watch. When you wear it, you hardly notice the growth spurt. In fact, you can just keep using your old Apple Watch bands, they still fit. But when the screen lights up, you can't possibly miss the difference.
The largest Watch has an image surface that is more than thirty percent larger than that of its predecessor. That's not just in those few extra millimeters, but has everything to do with the iPhone X treatment that Apple has unleashed on the Apple Watch. The front is all screen. The bezels around it are a lot narrower than before – often you don't even see them, because the black of the edges seamlessly transitions into the jet black OLED screen. The screen extends all the way to the corners. They are much rounder than before. If the Apple Watch continues to evolve like this, the Apple Watch may be around within a few years. Okay, that might be a bit of an exaggeration, but when you look at the older models, they suddenly seem a lot more angular.
Easier to operate
The larger screen of the Apple Watch provides a completely different user experience. The honeycomb-like structure in which the apps are arranged is finally coming into its own. Not everyone was equally charmed by this grid view, but that could now change. Throughout the system, the screen has become easier to read. For example, if an e-mail message came in before, you quickly reached for your iPhone to go through it calmly. Emails are now perfectly readable on your Watch.
The iPhone can therefore remain in your pocket more often. Not only because text and images are much easier to see on the screen, but also because the larger interface makes everything much easier to operate. Buttons on the screen are a lot bigger and therefore more manageable. If you ever wanted to tap the wrong standard answer or an inappropriate emoji in Messages, that is now a thing of the past. Apple's apps are excellently optimized for this new big screen, the third-party apps are not all ready for it at the moment.
Apple Watch Series 4 watch faces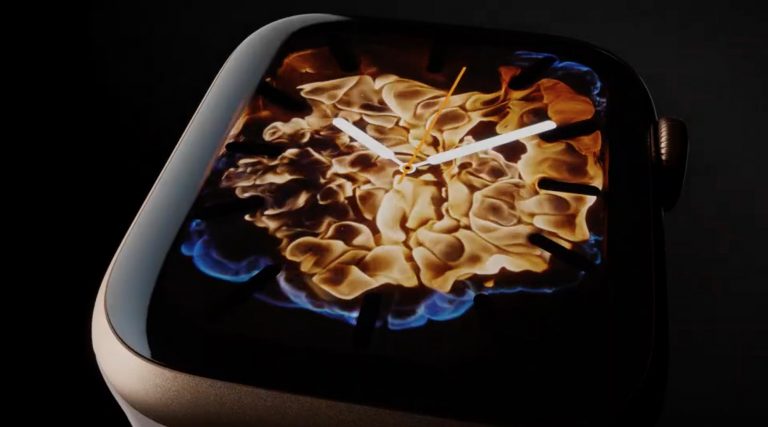 The display in all its glory is especially noticeable with the new Apple Watch Series 4 dials, some of which are exclusive to the Series 4. They are simply not suitable for a smaller screen. First up are the Fire and Water, Liquid Metal and Vapor dials . In principle, these watch faces are also available for the older Apple Watch models, but with an important difference: there they are round, on the Series 4 they are full screen.
The animations extend to the farthest corners and look great. You can't even call it animations, because that would insinuate that they come straight out of a computer. However, Apple has pulled out all the stops to capture real materials as beautifully as possible. The result is impressive and is almost hypnotic. But as beautiful as they are, these dials have a particularly big disadvantage. There is no room for complications in this full-screen view, which makes them less functional. You see what time it is, and that's it.
Infographic dial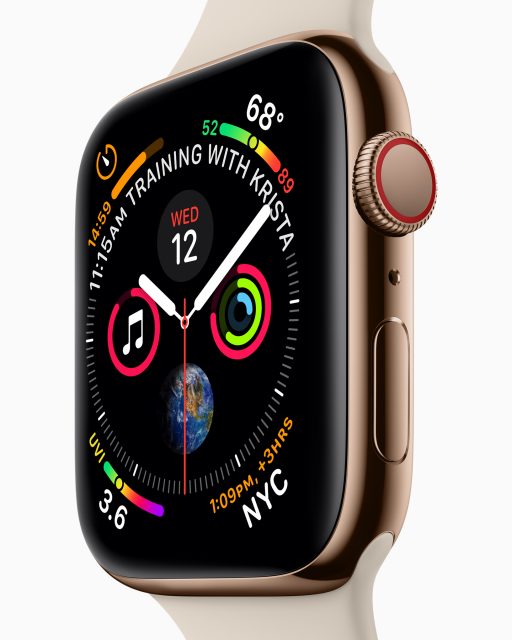 But then the new Apple Watch watch face Infographics comes into play. Apple has used each of the 164,864 pixels in the display to make the most of this watch face and has managed to cram in as many as eight complications. Eight! It's almost too much of a good thing and some will consider this dial too busy. At first you see so many icons, so many colors, so much swarming.
But after a while I got over the initial shock, and I have to admit that this is my favorite watch face. Mainly because you have activated your favorite functions in no time. There are two variants of the dial: Infographics, which has an 'analog' dial, and Infograph Modular, which is more digitally oriented. This offers room for slightly fewer complications but does highlight one complication on a large scale. The weather forecast for the coming days, or – as in the image on the previous page – your activity during the day. And that down to the last detail!
What is unfortunate at this point is that there are still few third-party complications available for the Infographics watch face. You are dependent on what Apple has to offer you. Logical too, because developers really need to dig into that. We expect this to go well. However, what we still don't see happening in the near term is Apple allowing complete third-party watch faces. It hasn't done Fitbit and Android's Wear OS any harm, but Apple isn't going to dare. It would affect the look of the Apple Watch too much, something they like to keep in their own hands.
Battery life
You might expect that a larger screen also has consequences for the battery life, as well as the new and faster processor. In addition, the battery is somewhat thinner due to the slimmer housing. Apple itself claims that the battery lasts as long as that of the Watch Series 3. As far as we are concerned, they do themselves short, because we can go on a lot longer on one charge. Two days is doable. So a battery that is more powerful than we might expect. What is also powerful is the speaker. This one is up to 50 percent louder: Siri blares through the room louder than ever before. Phone conversations are much more intelligible and vice versa you are also much more intelligible to your conversation partner. That has everything to do with the new location of the microphone: opposite the speaker.
A very nice improvement is the haptic feedback that the digital crown now provides. If you scroll through lists, or if you zoom in on a photo, you will feel small taps. As if you are really turning a gear, it feels mechanical. Indispensable? That's too much honour. It's one of those features that might pass you by unnoticed until you deactivate it or put on an old Apple Watch. It then feels broken: as if you are trying to click on a Force Touch trackpad while it is turned off.
fall detection
The larger screen is probably the reason to fall for the Apple Watch Series 4. But in addition, the Watch remarkably enough mainly excels in functions that you hope you never ever need. That may sound like a mystery of the Sphinx in 2018, but it is easy to explain. One of the most notable inconspicuous new features, for example, is fall detection. The Apple Watch's gyroscope has been improved so that it can better interpret sudden movements and shocks and thus detect if you fall. If you fall and stop moving, the emergency services will be alerted automatically.
At first, I feared that this feature would cause me a 911 hotline, as my foot-eye coordination is poor to say the least. But apparently the algorithms understand the difference between chronic clumsiness and a big smack. The Watch cannot be fooled. You can throw yourself in bed, on the couch or in a pile of pillows with real contempt for death. But nothing fools the Watch. But does it work now if you really fall down? Hell yes! You can read how to enable fall detection in our article How fall detection works .
ECG function
And there are even more health features that you naturally hope you never need, but which are nice just in case. The Apple Watch has been a glorified heart rate monitor from the start and now runs even faster than the competition. It not only measures the number of heartbeats per minute; you can make an electrocardiogram with it in the future. It is the first time that an ECG product is available to consumers. Keep your finger on the digital crown and the electrodes in the newly designed back will get to work. A heart film is made in thirty seconds that you can then share with medical professionals.
Although the hardware is ready, the ECG function is not yet available in the Netherlands. In America, the feature was activated last week with watchOS 5.1.2 . Lives can be saved with the EKG function, but if you are somewhat hypochondriac, you should not actually self-medicate with this – that only causes more stress. Moreover, perhaps wrongly, because the sensor is now also not so good that diagnoses can be made with it. You really need to see a cardiologist for that.
No sleep tracker
We do believe that the EKG will become available in the Netherlands and Belgium sooner or later. There's one feature everyone expected to come to the Apple Watch that's completely missing: a built-in sleep tracker. Apple has been making a lot of efforts lately to help people get a better night's sleep. Think of Night Shift, which makes the color temperature of your Mac or iPhone warmer so that you get fewer stimuli that keep you awake. Or the ever-expanding Do Not Disturb mode on iPhone and iPad. Last year, Apple acquired the sleep monitor and app Beddit, which maps your sleep pattern and helps you get a better night's sleep. It was almost inevitable that the technology would be incorporated into the Watch – but not.
Conclusion
For the new Apple Watch, Apple has worked hard on new functions that you rarely use in everyday life. Still, you're glad they're there. Compare it to a smoke detector, which you also hope never has to produce a sound. Or with an airbag, which should remain neatly folded in the dashboard.
Furthermore, you can do everything with the new Apple Watch that you can do with the old one. Using apps on an older Apple Watch? Which can. But this new version can do better, thanks to the larger screen; that is clearer to read and easier to operate. Making phone calls on an old Watch? It is also possible, but because of the noise you are quickly inclined to switch to the iPhone. That is not necessary with this new generation. This has made the Watch much more accessible – thanks in part to the new Infograph dial, which allows you to always keep your finger on the pulse of your favorite functions.
The new larger and rounder design in combination with the new dials suits the Watch very well. In short: while there is still room for improvement, the Apple Watch Series 4 is a watch to fall for.
Buy Apple Watch Series 4
Do you want to buy the Apple Watch Series 4 as a result of this review? These are the Starting Prices:
Apple Watch Series 4 40mm: €429
Apple Watch Series 4 44mm: €459