Surprise! OK, not quite a surprise, because we already heard about it this week but Amazon did the Alexa event earlier than expected. A lot of new things have been announced there, including the Alexa Guard function that anyone with an Alexa can use anywhere to get smart alerts about sounds that might indicate problems such as broken glass, alarm sounds or other things. You then hear a sound fragment of what Alexa has heard, so that you can decide whether you should take action.
However, the bulk of the event consisted of hardware announcements, which included a number of new things, as well as a number of updates to existing products. Let's start there.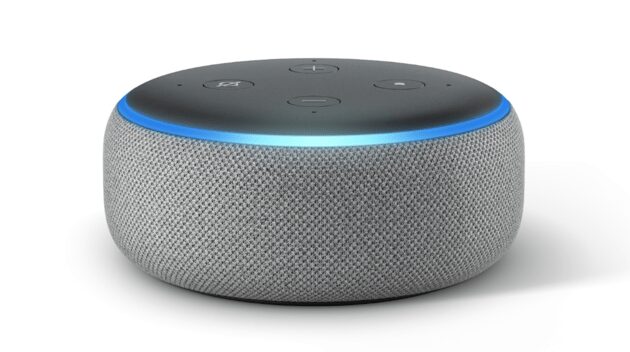 New version Echo Dot, Plus and Show
The Echo Dot is the entry-level of Amazon with a price of $ 50 (60 euro here). It was up to update and will receive it this year. With dust on the outside and a speaker that can not only 70 percent harder but also produces a fuller sound, it is slightly less hockey puck with telephonound but more mini-smart speaker. The speaker comes out mid-October, where it is unclear whether Europe is directly at the turn.
Also improved is the Echo Plus. That also got a sound upgrade (it's a recurring thing with the new line-up), although the Plus already had a very reasonable sound. The Plus gets a temperature sensor, so you can ask if it is really warm inside and you can also connect it with your thermostat. The Plus can be paired with a second speaker as a stereo pair and in addition, the new Echo Sub (which is more). The price of the Plus is also unchanged, because it still costs 150 dollars / euro.
The Echo Show gets a big upgrade, but is less interesting for us because it is not available outside the US. However, the Show has improved a lot, with a new look that is more minimalist and the 10 inch screen shows up better. There is now also a browser in the Show, so you can watch at least YouTube videos ( it's a whole thing ) and with support for Skype video chats and even live TV via a Fire TV it can thing significantly more than the previous version. Fortunately, all that extra functionality did not affect the price, because it is still 220 dollars.
Echo Sub and Echo input
The subwoofer and amplifier that appeared in the rumors appear to be the Echo Sub and Echo Input. The sub is simple: it is meant to add a subwoofer to the much-needed bass to a few other Echo speakers (Amazon hopes two Plussen). With 100W of power it is solid enough, and with a price of $ 130 it means that you can have two Echo Plus speakers and the sub for $ 430. You also have a HomePod or Google Home Max speaker for that. The sub is useless without other Echoes for linking.
However, if you are already equipped with sound technical techniques and you just want to have Alexa without buying extra speakers, you can do so with the Echo Input. For $ 35 you get a dongle with bluetooth, a line output and of course a microphone so that Alexa can understand you. Nice.
AmazonBasics (the microwave etc)
Well, a microwave with Alexa. Is that really useful? It could be that, because in the demonstration things like "Alexa, one potato" against the microwave were said and then the temperature and duration were already good. Then all you have to do is deposit the potato in question in the microwave and the rest will go almost automatically. The addition of time, stopping and other things can also be done through Alexa and you really only have to touch the food. The advantage of this version compared to other microwave ovens with Alexa support is that it is not exciting and costs only $ 60. For that money you do not have to ask LG or Samsung for Alexa support.
There was more: a wall clock that is meant to hang in the kitchen and that does not have Alexa itself, but has a series of LEDs in the edge that are used when Alexa has a timer set. Nice, and for $ 30 also no world-shaking edition if you put a lot of timers.
The best thing about that stuff was the smart plug. There is no Alexa itself, but you can put that between each electrical device and that way you can control that device through the Alexa app on your phone or Alexa itself. The advantage here is that it does not need an extra hub, unlike 'regular' smart outlets, and of course it works seamlessly with the rest of the Amazon stuff.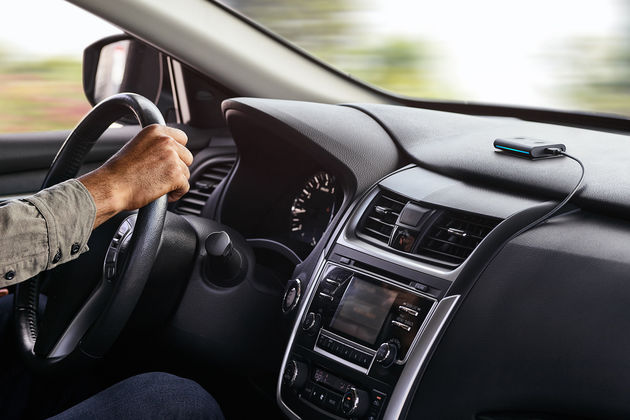 Echo Auto
There are more and more cars that support smart assistants, but if you just drive around in an older barrel, that is not possible. The Echo Auto solves this by connecting to your phone (via Bluetooth) and using its mobile connection to answer your questions. The device starts as fast as you go and because actions can also be started based on the location you can set it so that the lights go on at home when your car drives into the driveway.
The car is not finished yet, because Amazon customers can now sign up to test a pre-release version for $ 25. The final version must cost $ 50. There are more than enough options to get some smart assists in your car, also from other parties that offer the same Alexa experience, so it does not sound very interesting at the moment.
That said, Amazon has really announced a lot here. What that means for the competition of the giant is still the question, but for now it is especially nice that the trend of Amazon speakers that are not more expensive but better be continued.