No less than five new iPhones are planned for 2020. This is what Apple oracle Ming-Chi Kuo claims. In addition to the iPhone SE 2, Apple would work on four high-end devices with OLED screens and support for 5G.
iPhone SE 2
He's really coming now! Really! His successor has been talked about since the release of the iPhone SE. We don't dare to put any money on it yet, but the iPhone SE 2 will appear in 2020 is becoming increasingly likely. According to Kuo, this cheap (er) iPhone will be available in the first half of next year.
The design of the iPhone SE 2 is reportedly based on the iPhone 8, with a screen of 4.7 inches and a home button with Touch ID. A step back in time, even though the inside is up-to-date. He gets the fast A13 chip of the iPhone 11 and 11 Pro (Max) and 3 GB of memory.
Want to know more about iPhone SE 2?
View this file
iPhone 2020
Later in the year – we gamble in September – Apple will then release the successors of the iPhone 11 and iPhone 11 Pro (Max). However, this does not concern three new devices, but four. The successor to the iPhone 11, which we call iPhone 12 for convenience, comes in two formats. One with the familiar screen of 6.1 inches, and a smaller version of 5.4 inches. The latter is therefore not much larger in terms of overall size than the suspected iPhone SE 2.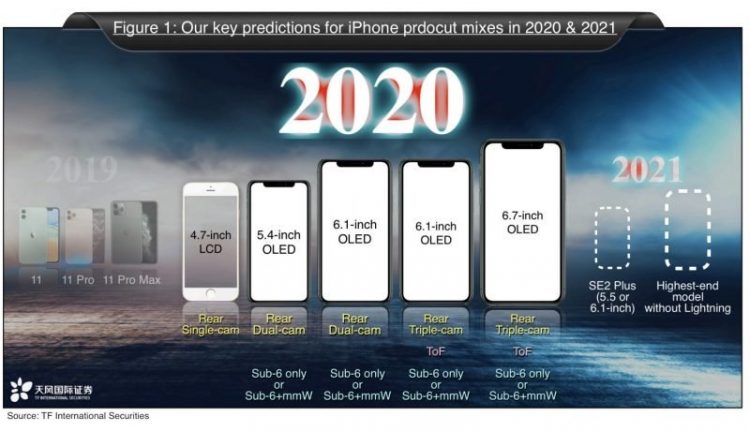 The "Pro" version of the iPhone that will be released in 2020 is said to have grown a little. With a 6.1-inch screen, the iPhone 12 Pro becomes just as large as the iPhone 12, where the 11 Pro now measures 5.8 inches. The 12 Pro Max grows from 6.5 inches to 6.7 according to Kuo.
The design of the iPhone 12 would go back to the iPhone 4, with a new metal frame with straight edges. The difference in lenses remains, the "Pro variant" has three, the standard iPhone two.
Furthermore, there is support for 5G and each variant is given an OLED screen. At the moment only the Pro (Max) has an OLED screen. The iPhone 11 has to make do with an LCD screen. It remains to be seen whether the notch will disappear. In the schedule of Kuo's employer TF International Securities, this is still shown.
The return of Touch ID?
We mentioned earlier that Apple wants to re-introduce Touch ID. With this new unlocking method, your fingerprint is scanned with ultrasound over the entire screen. However, this only works with an OLED screen. The fact that Kuo expects four iPhones with such a screen might just indicate that the new Touch ID is at an advanced stage. And Apple will be thinking about continuing to use Face ID for double security.
iPhone 2021
Kuo also looks ahead to 2021. He anticipates the arrival of an iPhone SE 2 Plus in his coffee grounds. This should have a screen of 5.5 or 6.1 inches. If the iPhone SE 2 is already there, this is four years after its predecessor. It seems unlikely that Apple will introduce another SE for another year.
Even more striking is the expectation of the "highest-end model". This iPhone should be without Lightning connection. A fully wireless iPhone. It would be plausible that Apple has plans to deliver AirPods with the iPhone.
For the time being we also take this prediction with a good grain of salt. AirPower has failed. Apple has the reverse wireless charging – for example, where you charge your AirPods via your iPhone – can not implement on the iPhone 11. Everything indicates that Apple does not yet consider wireless charging reliable and efficient enough. The fact that the Cupertino company will already be presenting an iPhone in two years' time that is completely dependent on this, sounds like future music.